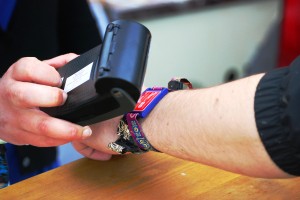 On behalf of our clients Vodafone and MasterCard®, and in the face of some challenging weather conditions, we are proud to have delivered the first UK 'open platform', integrated access and contactless payment solution at the Isle of Wight Festival.
Our partners Quantum, HSBC Merchant Services and TS3 provided the financial 'back office'. We also delivered an electronic integrated access system to all festival goers incorporating a 'real-time' management information access system which included regular twice hourly SMS updates. Vodafone customers were provided with fast track entry lanes; ensuring all Vodafone customers had a quick and pleasant experience in gaining access to the site, despite the weather.
Working closely with the festival promoter John Giddings [Solo] and festival caterers Central Catering Services, the service provided 13,000 festival attendees with a MasterCard® PayPass™ wristband. These were sent to Vodafone customers before the event, which could be pre-event registered then loaded with money and used at any of the 160 terminals across the site located in bars, food vendors and merchandise stands. The simple tap and go process resulted in quicker transaction times and shorter queues.
Robert Langford, Financial Director of Solo Agency said: "We are really pleased with how the payment wristbands have gone this year. The responses from customers and merchants have all been really positive and we have high hopes for the future of contactless payments at the Isle of Wight Festival."
The Benefits of Integrated Access On A Festival Site
The convenience and security of not having to carry cash was one that users relished. The auto top-up facility meant that when users balances fell below £20 additional funds were credited according to a chosen amount meaning users could rely on adequate available funds. The remaining balance left on the wristband after the event will automatically be debited back to bank account registered with the wristband. Users will also be able to view their transaction history after the festival.
Customer Service points around the site enabled customers to register, check their balance, or top up onsite as well as quickly responding to any problems or issues. Despite the complications that arose from the difficult weather conditions the general consensus was positive.
A wireless network throughout the site, installed by event specialists EtherLive also powered a fast 'chip& pin' service – Photo Credit to ID&C Wristbands
A wireless network throughout the site, installed by event specialists EtherLive also powered a fast 'chip& pin' service where standard transactions were authorised in 2-3 seconds.
Marion King, President of MasterCard UK & Ireland, said: "Building on the success of the last two years, MasterCard is continuing to enhance the festival experience for music fans, by using our innovation to enable simple, safe and smart payments. This year's trial is the latest milestone in the journey towards to a truly 'cashless' environment, as festival goers look to spend less time queuing and more time enjoying their favourite bands."

Mark Hatch, Director of Operations at the festival caterers, Central Catering Services who have been at the forefront of pioneering cashless payment systems at UK Festivals said "We have always believed that the combination of contactless, cashless and fast card clearance payments are the foundation of fully cashless future festivals. The successful provision of these payment systems and the experience gained at the Isle of Wight last week have confirmed this"

Paul Pike, Intelligent Venue Solution commented " Despite the challenges posed by the weather, the successful deployment of a fully open, integrated cashless payment and access solution proved that festival friendly technology is finally ready for widespread adoption"