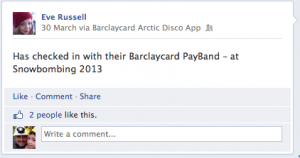 Far more than a communication tool, social media is your most powerful and cost-effective relationship management tool in existence. Our solutions are designed from the ground up for the connected world, enabling you to forge a significantly enhanced bond with your customers, increasing loyalty and attracting a much larger pool of their friends and connections to your event.
Connecting your customers' wristbands to their social media accounts creates a live bridge between the real and digital worlds which unleashes a new dimension of possibilities across the entire life-cycle of the event. As fans interact (socially connect) with attractions at the event, their experiences and enjoyment are broadcast online across their social graph. This means that the event and its partners are
now able to engage not just with those in attendance, but also potentially with everyone they are connected to via the internet!

How it Works: Before The Event
Attendees are encouraged to register their profile online, connecting their ticket ID, personal information, social media accounts and payment card details (if the event supports cashless transactions) to their wristband (or other entry device)

The event owner receives customer data for all attendees, not just the ticket buyer

Pre-event incentives can offer rewards at the live event. For example, fans that Like the festival's Facebook page can get an automated discount on a t-shirt, spendable credit or access to an exclusive item of merchandise

Our social commerce engines harnesses the power of the personal recommendation, turning your customers into the most powerful sales-force imaginable, dramatically enhancing your ability to sell tickets, merchandise and virtual goods
During The Event
RFID or barcode access scanners can trigger an automated post to the attendee's Facebook or Twitter account, promoting the event socially

RFID or barcode touch-points around the site allow attendees to interact with specific attractions, sponsor activations, trader stalls and even the artists performing on-stage. Interactions can involve:

Instant voting and ratings

The delivery of content to the user's email address (eg. information and downloadable tracks for the band they are watching) or conference notes

Opting-in to share data (such as signing up for a promotion)

Connecting socially (such as Liking a new band you have discovered on Facebook so you can follow them after the event, receive a free track by email or a Spotify playlist)

Instant competition entry to win access privileges, credit or redeemable tokens charged to the wristband

Discount incentives (eg. 'check-in at the merch stand before 2pm')

Social gaming, such as Facebook-linked treasure hunts, providing a new experience and a way to drive awareness of particular areas, installations, projects and causes that the event is involved in

Connected Photo-Booths allow fans to instantly capture and send photos of themselves to their Facebook wall, Twitter or Instagram, amplifying the excitement of the event across their entire social graph
After The Event
Maximise engagement and commerce opportunities with fans all year round

The most active fans (measured by their activity on-site) could receive priority on tickets or a gift
Some of our Social Connect Success Stories:
Wireless Festival
Snowbombing