As well as offering a cost effective and robust closed loop (e-voucher) system, IVS is the leading exponent of open loop cashless solutions in the UK, and has worked in conjunction with MasterCard for over two years developing an integrated access and payment wristband based on PayPass and In-SIte, specifically designed for the Event and Festival market.
The difference between Closed Loop and Open Loop payment systems 
Our solutions been used very successfully by major events including the Isle Of Wight, Barclaycard Wireless and British Summer Time in Hyde Park, Snowbombing and the UEFA Champions League Final at Wembley Stadium.
The payments industry is highly complex with many organisations in the value chain and rigorous rules to follow. We have developed the most effective and secure open and closed loop cashless payment systems in the live events market. Our unique and fully-managed solutions are backed by Barclaycard, MasterCard, Quantum Services, HSBC Merchant Services and TS3 Systems – and have proven usage at large scale outdoor festivals and events across the UK and in Europe.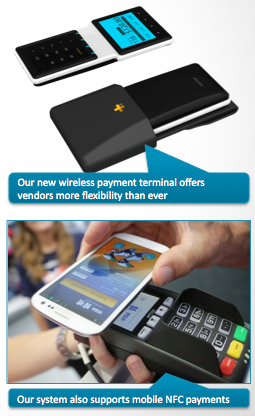 Features and Benefits:
Our flexible solutions include fully EMV-compliant open loop, bespoke closed loop or a hybrid of the two
Supports tokens alongside currency
Supports automatic third party commission routing
Optimised for rapid-deployment Green Field environments
Any unspent funds can be automatically refunded after the event, put towards next year's ticket or spent outside the event with our open loop system
Top-up online before event or at manned customer service helpdesks and via mobile app during event
Or set an auto top-up to avoid running out of money on-site
Ultra fast payment authorisation
State-of-the-art wired and wireless payment terminals
Real-time reporting of all spending and merchant activity
Supports loyalty-based offers (eg. Buy 3 drinks and get 1 free) and discounts (eg. 20% off for crew/ fan ambassadors)
Full redundancy of service in a power or network outage
All event transactions are authorised online to prevent negative balances
Supports SMS message confirmation on spend & top-ups
Customer balance checking facilities – fixed, mobile or online
Faulty/lost wristbands can be cancelled and replaced with balances transferred at customer service points
Connects to the social network accounts of your event and customers to enable social commerce
Typical User Experience:
Our Cashless Success Stories Include:
Wireless Festival The Isle Of Wight Festival Snowbombing
Mark Hatch, Director, Central Catering Services: "We have always  believed that the combination of contactless, cashless and fast card clearance payments are the foundation of fully cashless future festivals. The successful provision of these payment systems and the experience gained at the Isle of Wight last week have confirmed this"
Bradley Thompson, Promoter, Snowbombing: "Hats off to Intelligent Venue Solutions for a flawless delivery that added to the event and the experience for guests. We very much hope to work with them at our future events, taking contactless technology to even greater heights"
Click here for more information on the Cashless Payments services we provide